Mastery Card Frames or Card Frames are a special border to cards that visualize if a card was used in a standard run that defeated Seraph in any Covenant Rank. Card Frames can be turned on and off in the log book. Cards that are not obtainable in the deck, such as Morsels or Hatched Units, get card mastery, when the card that can create them gets mastered.
Unlocks
[
]
There are 8 different Card Frames that can be chosen in the logbook.
Mastered: unlocked by default.
Pyreroom: unlocked by playing the Daily Challenge three times in a row. (You may lose the Daily Challenge, all you need to do is start the challenge and either finish it or abandon the challenge within the time limit.)
Crystal: unlocked by winning Hell Rush five times. (You may play a Custom Challenge in Hell Rush Mode instead.)
Angels: unlocked by winning a standard run on Covenant Rank 25.
Stone: unlocked by winning 15 Expert Challenges.
(DLC) Wurmkin: unlocked by defeating The Last Divinity with every clan.
(DLC) Stained Glass: unlocked by beating 25 Expert Challenges with a divine victory.
(DLC) Remnant: unlocked by beating all 30 clan combinations on Cov 25 with a divine victory.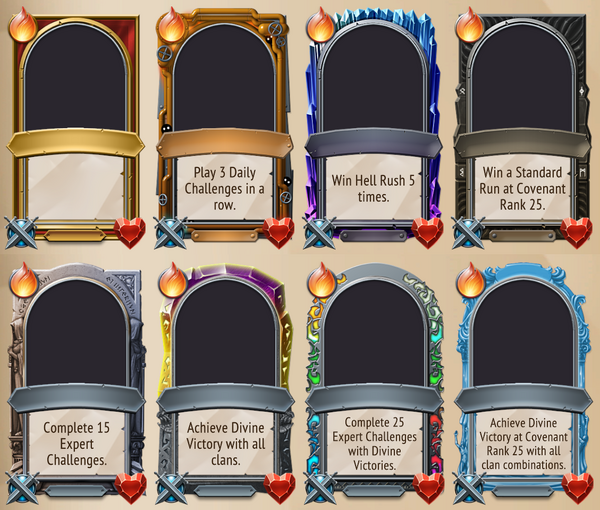 Divinity Card Stamp (DLC)

[

]
Beating The Last Divinity in any Covenant Rank further unlocks a Divinity Stamp onto the mastered card.
History
[
]
See: Version History
| Version | Changes |
| --- | --- |
| 1.0.0 | Added Unmastered and Mastered Card Frames. |
| 1.1.2 | Added Pyreroom, Crystal, Angels and Stone Card Frames. |
| 2.0.0 | Added Wurmkin, Stained Glass and Remnant Card Frames. Added Divinity Stamp. |