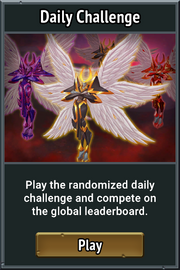 The Daily Challenge is a game mode in Monster Train.
Game mode
[
]
The Daily Challenge is accessible thru Challenges. It is a randomly generated game mode in Covenant Rank 1 with a semi-random selection of Mutators. Usually one good, one bad and another random Mutator is selected.
Unlocks
[
]
Playing the Daily Challenge does not unlock any single player progress, such as unlocking cards or clans. Playing the Daily Challenge three days in a row however unlocks a Card Frame.
Tips
[
]
To get a high score, usual scoring rules apply and thus tips from Custom Challenge and Hell Rush apply as well. For more info, see Scoring.