For the major boss, see: Seraph
"The end is near. The Great Traitor will devour your spells. You better bring more of them if you hope to succeed."
— Combat Description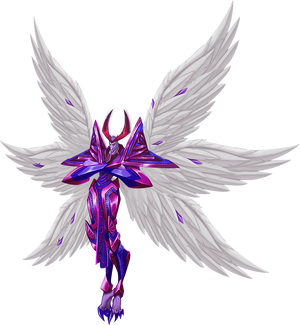 Seraph the Diligent is a boss combat that can appear in Ring 8.
In this combat, The first spell you play each turn Consumes. 3 Vengeful Shards are also shuffled into your deck. The combat also features Purifiers to trash your deck further.
Like all Seraph combats, Seraph places a Lightwings on the train every turn.
Strategies
[
]
Make sure to have enough "filler" spells to play, so you don't have to consume your important spells.

However, do not completely flood your deck with these spells, as they will still take up your draw.
It takes 8 turns for Seraph to enter Relentless, and 10 turns for him to reach the top floor. Thus, the combat gimmick will consume up to 10 spells this combat. This includes spells played on the final shuffle, where the consume does not matter.

Alternatively, you can use spells that consume anyways.
Either Vinemother, Thornfruit, or Cursed Vines can completely nullify the Consume gimmick.
Impish Scholar, Broken Memories, Wurmkin Etchings and Repeater Echowright can return consumed spells to your deck, which can help mitigate the Consume gimmick.
Trivia
[
]
Like all Seraph combats, a Steelwings appears on the 2nd to final wave.
Unlike other Seraph combats, Seraph does not place a Lightwings on the first turn. Instead, he takes his turn to shuffle Vengeful Shards into your deck.