For the major boss, see: Talos
"Talos attacks quickly and decisively, using powerful blows to knock back whoever she hits."
— Combat Description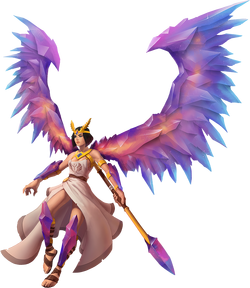 Talos, the Architect: Protective Sin is a combat that can appear in Ring 3.
In this combat, the boss, Talos, attacks before Relentless. Any unit she strikes is pushed to the back. Also, all enemy units enter with Armor 5.
This combat also features Overcharged Apprentices.
Strategies
[
]
Cards like March of Shields and Vine Grasp are especially useful in this combat, in order to keep your units in order.
Applying Dazed to Talos will prevent her from striking.
Unnamed Tome stops Talos from reordering your units.
Trivia
[
]