For the major boss, see: Talos
"Talos has perfected her aggressive precision, striking swiftly to daze those she hits."
— Combat Description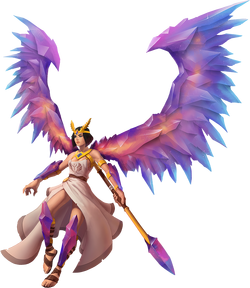 Talos, the Architect: Soul Sucker is a combat that can appear in Ring 3.
In this combat, the boss, Talos, attacks before Relentless, applying Dazed 1 to any unit she strikes, stopping that unit from attacking that turn. Also, friendly units enter with Sap 1.
This combat also features 2 Haste-granting Conduit Infiltrators, which will allow waves to skip the middle floor if not taken care of.
Strategies
[
]
With Clergyman starting with rage and doing a lot of damage on lower floors, it is generally advised to play units on higher floors.
Applying Dazed to Talos will prevent her from striking.
Trivia
[
]