| | |
| --- | --- |
| | This article, The Last Divinity: Divine Intervention, is content only available with The Last Divinity, DLC. |
"Either in victory or defeat, the Divinity's endless destruction rages on."
— Combat Description.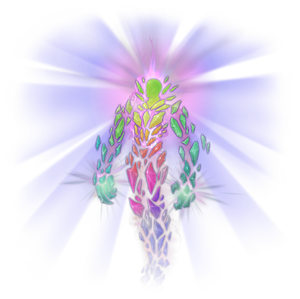 The Last Divinity is the true final combat, accessible if one has as at least 100

or the Game Mode is Hell Rush. Here, one confronts the true final boss, The Last Divinity.
In the combat against The Last Divinity, all enemies spawned enhanced. There will also be minor bosses in the waves who are not Relentless. The Last Divinity itself spans all 3 floors, and attacks each floor every turn, with different status effects.
More specifically, The Last Divinity has Sweep on the top floor, Multistrike 1 on the middle floor, and Trample on the bottom floor.
The boss also has Purify, clearing all damaging debuffs from itself at the end of combat, namely Frostbite and Reap.
When The Last Divinity enters Relentless, it gains 7

. Its Relentless is triggered on all floors at the same time. If The Last Divinity manages to survive Relentless on all floors, it will freeze all floors at once after the enemy units ascend and start fighting the Pyre (with the top section's

).
Unlike other combats, each enemy wave in the combat is randomly chosen from a set pool.
In the following chart, every row per entry is one possible set of enemies that can appear on that wave.
Strategy
[
]
If playing units on the top floor, prepare survivability for ALL of your units, including your backlines since The Divinity has Sweep on that floor.

The top floor Sweep may make it necessary to play your units on mid floor. If playing on Covenant 20 and above, you may need to take Light of Seraph.
Even if not playing top floor, backline survivability is still very important, as this combat is guaranteed to have plenty of Spikes, and good chance for Sweep units.

There can be units with Stealth on this combat. Thus, either set up unit on the top floor, have Spells to eliminate those units, or expect Pyre damage.
Unnamed Tome and Resin Removal can be used to mitigate Enemy Triggered Abilities and Buffs respectively.
Inferno can be useful to help neuter the dense waves of enemies in this combat.
Wave 1, while the weakest, may have Damage Shields, which may take more hits than other waves.
On Covenant 20 and above, Wave 2 will be the first wave to feature a Clipped Reflector, which grants the entire wave Spell Shield 1, and gains Armor on Incant.

If direct damage spells are important to your strategy, prepare Piercing spells or extra spell hits to remove the Spell Shields do deal spell damage. Damaging Status Effects like Frostbite and Reap ignore Spell Shield as well.
Be careful playing spells on this wave, as the Clipped Reflector may gain just enough Armor to take an extra hit.

Wave 3 is guaranteed to have a Wiltwings, Harvest enemies, and a Conduit Redirector. Avoid sacrificing units to this wave, and either make sure your units have high enough Armor or , or have a plan to eliminate the Conduit Redirector (Through its Spell Shield 1).

It is especially important to neutralize the Spikes from the Conduit Redirector if you have a unit with Sweep, as they will be damaged by each and every instance of Spikes on the wave (including on the Divinity).

Wave 4 is where the first 'Miniboss' spawns. Make sure to scale enough single-target damage to take them down, especially if you are relying on floor wide effects like Sweep.

The whole wave essentially can be stalled with Ensnare, or eliminated completely with Petrified Skull or Crushing Demise. (Perfect Insanity, Bramble Lash, or Battering Ram may also work.)
Do note that on Cov20+, the 'miniboss' will be guarded by an extra heavy. Thus, if your plan involves dealing massive damage to the front enemy unit, prepare more spells to eliminate said heavy first.
Since this wave has much less enemies than other waves, this wave can be an opportune time to deal direct damage towards The Divinity. This is especially important if your plan is to kill the Divinity early.

Wave 6 can be a significant threat, especially on Covenant 20 and above.
Wave 7 is where the second 'Miniboss' spawns. Similar strategies against wave 4 can work here.
Note that some 'Minibosses', specifically Chains the Sighted and Highpriest to the Light, will add Vengeful Shards into your deck when killed (and not Silenced).
Note that Wave 8 will normally fight in Relentless on the top floor, and will attack the Pyre if they survive.

On Covenant 20 and above, this wave is the third and final wave to feature a Clipped Reflector.

Wave 9 normally can never reach the Pyre, as The Divinity enters Relentless before that can happen. However, this wave is guaranteed to have 2 Absolvers, meaning that it is still important not to ignore this wave, as they can put 2 Self-Mutilations into your hand on the final turn.

Do note that a Forged Disciple may spawn in this wave, which will have Sweep.
Trivia
[
]
Purify used to state "After a debuff deals damage to this unit, remove that debuff," despite working the same as it does now.
History
[
]
See: Version History
Before release in 2.0.0, the Last Divinity Battle went through a lot of different iterations. The Last Divinity would never become relentless and instead more and more waves would swarm the player in the first iterations of the fight that we know of. This was changed to adding a relentless phase because some strategies that work very well in relentless just didn't work for the fight. The iteration seen in the limited Beta release of 2.0 had the player receive 100 Armor and the Last Divinity attack the pyre each turn. The limited Beta version further had no Mini-Boss waves.